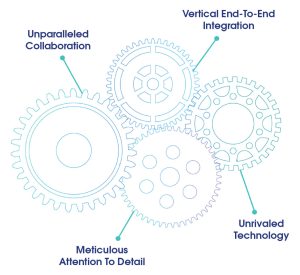 Aerospace & Defense
Unlock the power of partnering with Teamvantage, the premier manufacturing solution provider for the aerospace and defense industries. Teamvantage is now a Velosity company, drawing on the expertise of all Velosity businesses, including MMD Medical, Custom Mold & Design, and Paradigme Engineering, to provide you with a seamless, end-to-end experience. With a proven track record in program development from concept through production, we are equipped with the knowledge and resources to deliver exceptional results.
VERTICALLY INTEGRATED CAPABILITIES FOR SUCCESS
Our streamlined approach and cutting-edge technologies enable us to assist you throughout the entire manufacturing process. We offer design assistance that enhances manufacturability, improves product integrity, and even enables weight reduction through metal to plastic conversion opportunities. Our engineers are constantly pushing the boundaries of innovation, developing new processes that save time, reduce costs, reduce risk and enhance overall efficiency.
Compliance & Confidentiality Assured
We understand the unique needs of our aerospace and defense partners, and we are committed to providing the highest level of compliance and security. Our defense-focused manufacturing facilities are exclusively located in the USA, ensuring that we meet strict regulations. Additionally, we implement strict cyber security measures to protect all IT servers and networks. 
Teamvantage, as well as each Velosity facility, has specific codes and certifications to meet your manufacturing requirements which include the following:

Experience Excellence
From essential components to finished assemblies, we specialize in developing and manufacturing products that meet the highest industry standards. Our comprehensive contract manufacturing portfolio covers a wide range of applications, ensuring that we can support your specific needs from start to finish.
Aviation

 

Avionics
Communication & Electronics
Drones & Unmanned Vehicles
Force Protection
Fuzing
Gun & Cannon Components
Machined Ceramics
Medium & Large Caliber Ammunition
Missiles
Mortars / Artillery
Munitions
Night Vision
Satellites
Warheads & Fragmentation Bodies