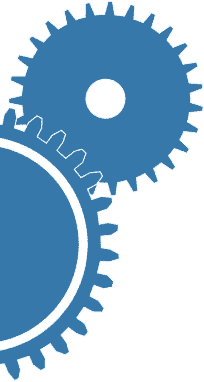 Velosity has a variety of machining capabilities that allow us to fabricate complex geometries to tight tolerances.  We serve a wide range of industries including, but not limited to, aerospace, consumer products, defense, electronics and medical. Our experienced craftsmen work with the best machinery, tooling, and software and our superior design and engineering team raises the industry standard for providing first-class part design assistance.
• Specialize in prototype and low volume manufacturing
• Support medium to high volume manufacturing
• Are well versed in providing Design for Manufacturability (DFM) support to assist in optimizing your product designs
• High-speed, multi-axis machining is at the core of what we do.  Add to that our other vertically integrated capabilities, you will find we truly are your one-stop shop for all of your precision machined component and fixturing needs.
CAPABILITIES
3, 4 and 5-axis vertical and horizontal milling
Swiss machining
Dry machining
Mill turning
EDM services (wire and sinker)
Fully automated CNC and EDM machining cells
Tapping
Deburring
Drilling
Laser marking
Laser welding
Engineering services including Design for Manufacturability (DFM)
Prototyping and NPI projects
Additive manufacturing
First article inspection
Capability studies
Robust supply chain management
Partner approved supplies to provide a wide-range of secondary operations


Velosity manufactures product from a variety of standard and exotic materials, including:
Aluminum
Brass
Copper (including Beryllium)
Stainless Steel Alloys (300 series, 400 series and 17-4)
Castable Alloys
Molybdenum
Nickle, Hastelloy, Inconel, Invar
Nitinol
Tungsten
Titanium and MP35N
Polymers such as PEEK, Acetal, Ultem, polycarbonate and many others, including machining of plastic materials without the use of cutting fluid
Composite Materials
Our arsenal of equipment includes some of the world's most sophisticated technology; including 10 Yasdas, dozens of Swiss machines, 3 Nakamuras and 2 Matsuuras. We use this state-of-the-art equipment to routinely manufacture parts with extremely close tolerance ranges, within .0001 of an inch or less.
Velosity offers high-precision CNC Swiss Machining to support industries such as medical device, aerospace and defense, and the industrial sector. To support the defense industry, Velosity manufactures an array of components in a variety of materials, from high-strength aluminum, stainless steel, brass, and polymers. We proudly support our Armed Forces by providing flawless precision-machined defense components for the most demanding military applications.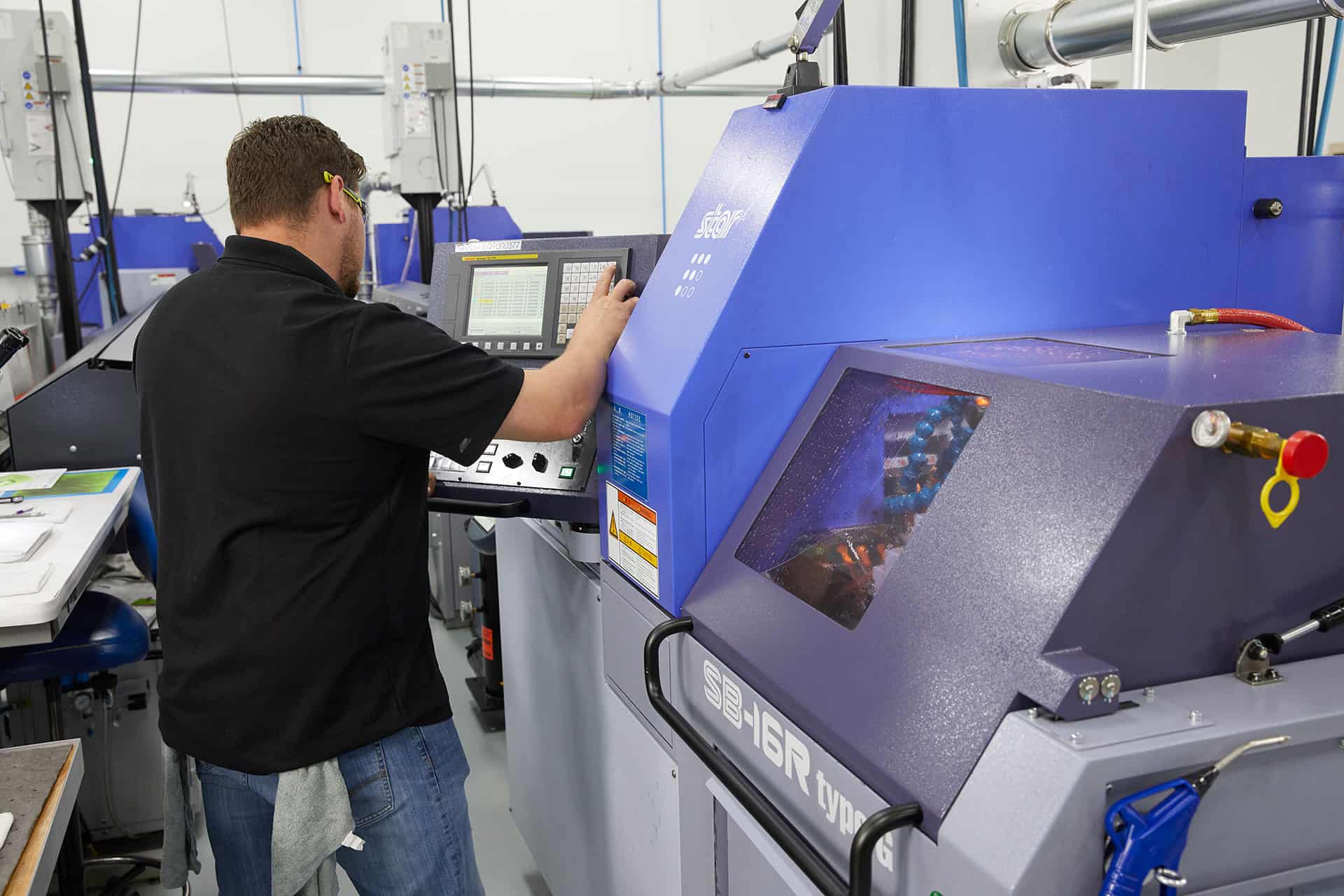 Coolant-Free Swiss Machining
Velosity continues to build its reputation for innovative manufacturing solutions for our customers. Dry Swiss machining (Coolant-free) is considered the cleanest manufacturing technique and a requirement in today's Class II and Class III medical device manufacturing industry.
Velosity has made additional facility investments to ensure our customers are able to achieve critical manufacturing objectives by setting up a dedicated white room to support dry machining.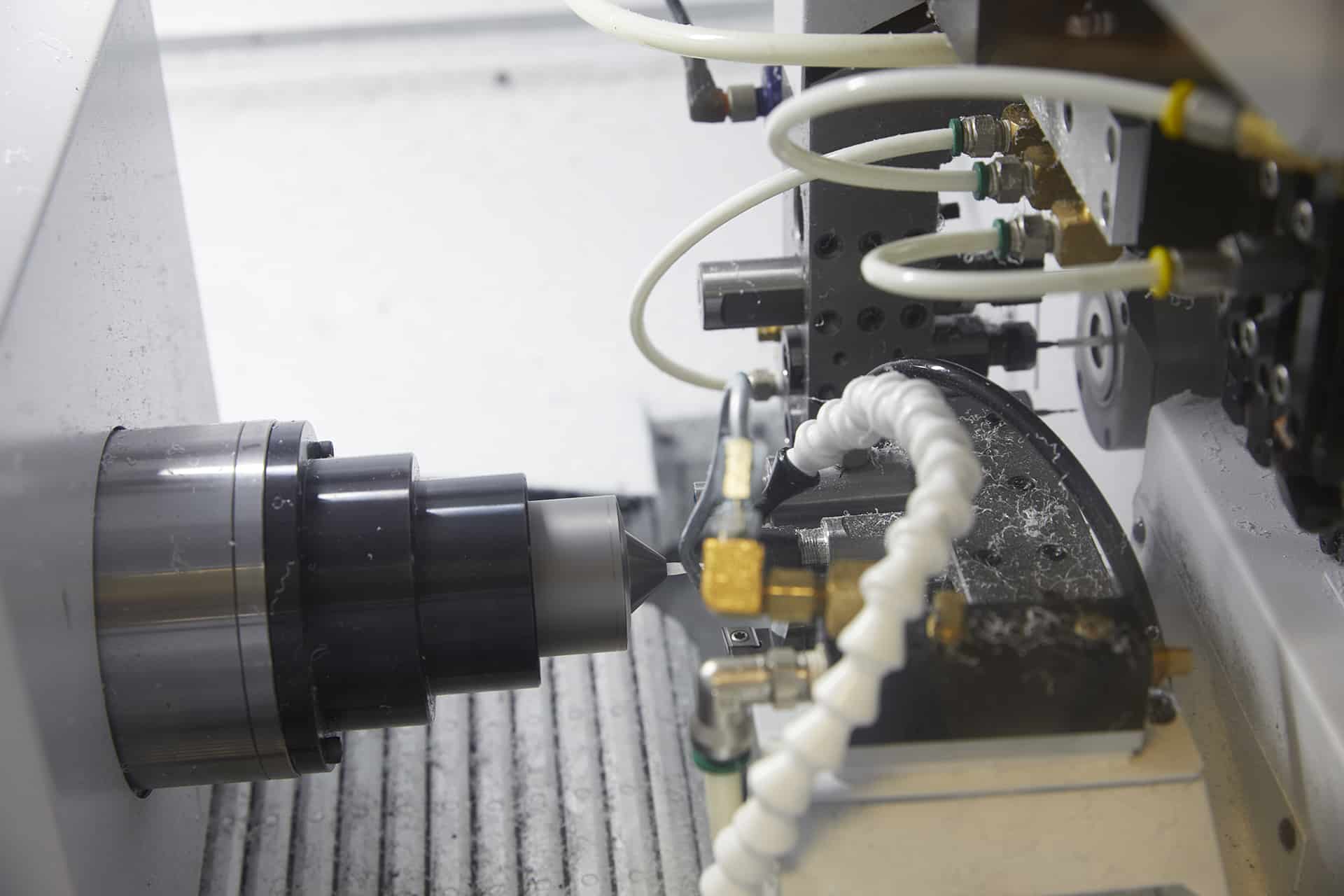 Velosity has a highly experienced team equipped with the latest and best machinery in the industry. Hard milling is used for both component and mold manufacturing. Surface finishes achieved often do not require any post-machining processing.
Within the medical, defense and industrial industries, prototyping is a critical step in launching a new product. Prototypes allow manufacturers to verify the efficacy and manufacturability of the design and determine whether design changes are necessary before proceeding into production. Velosity can help facilitate your projects from proof of concept to production seamlessly.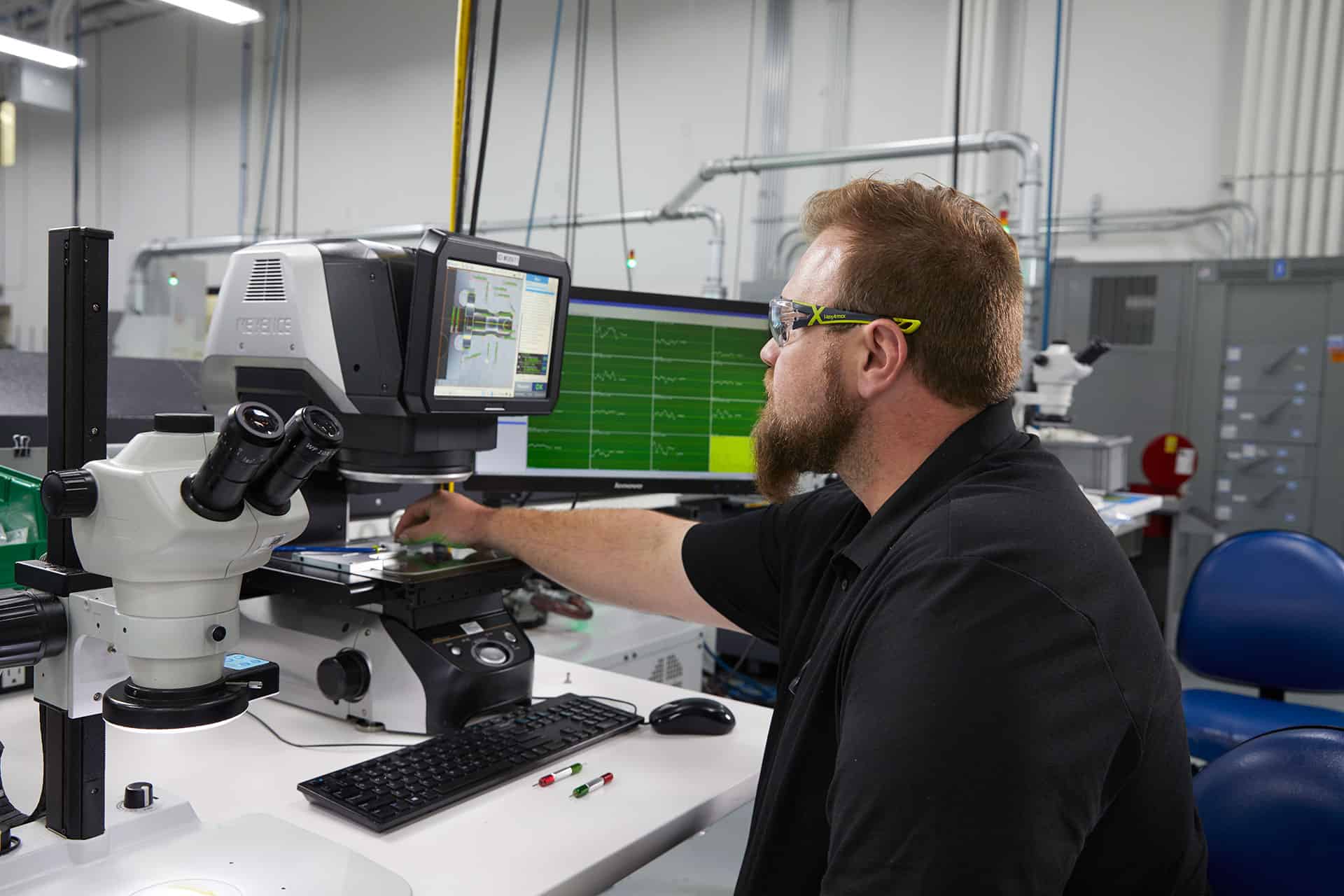 Our Mill Turning centers save our customers time and money each year by merging multiple operations into one, eliminating set-up time, reducing operations, and enhancing part quality. Early involvement of the Velosity design team to understand your project requirements leads to a successful, on-time launch and cost containment. 
Wire EDM machining (Electrical Discharge Machining) allows easy machining of complex parts and precision components. With faster processing times and superior finishes on even the most complex part geometries, Velosity provides its customers with a precise production and tooling experience every time.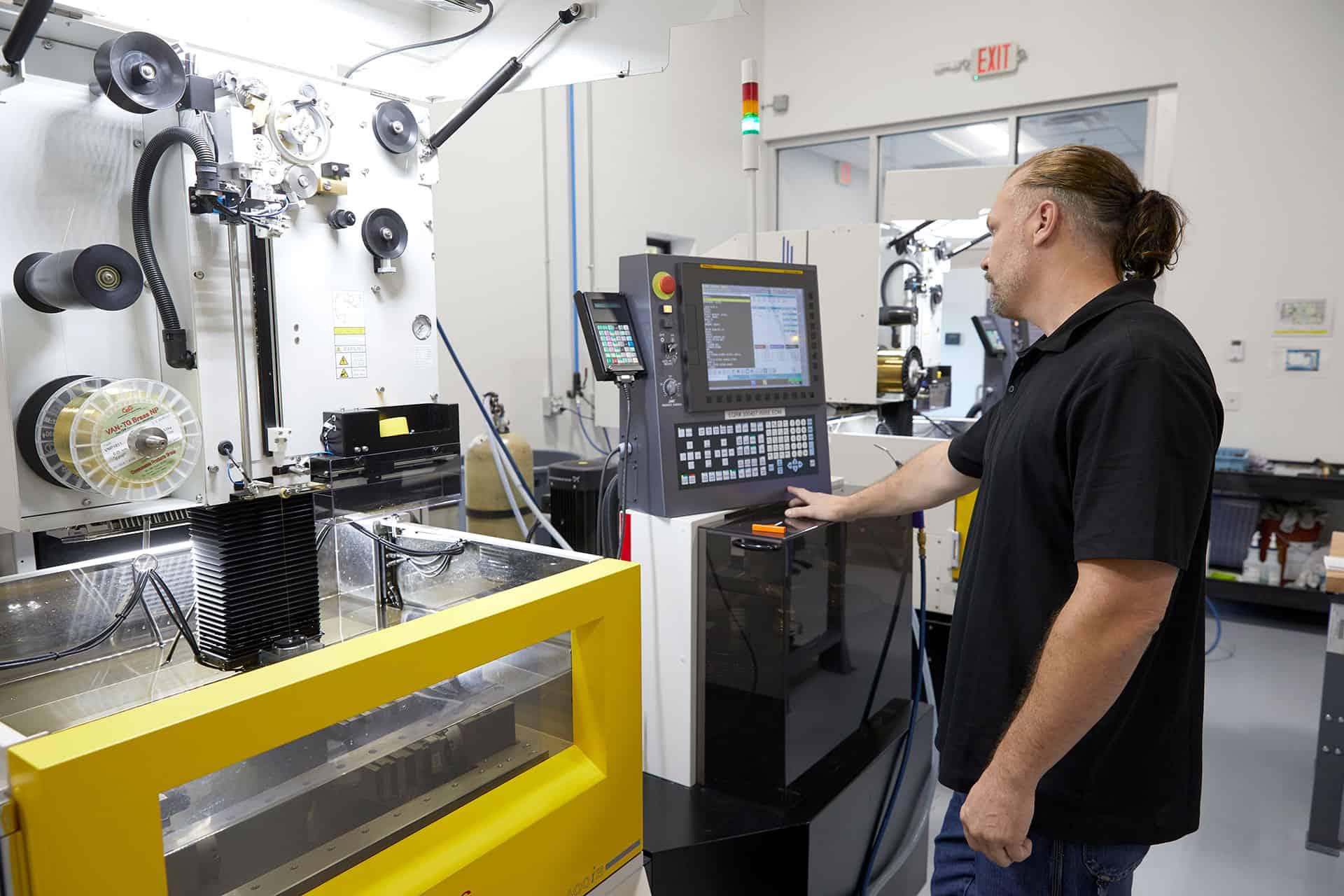 Our Sinker EDM equipment is ideal for hardened conductive materials and complex part details that are difficult to machine by other methods.  This equipment is used to drill micro holes, create cavities and make complex shapes in hardened metals. Velosity understands that manufacturing in highly regulated markets demands accuracy and precision and uses only the best manufacturing techniques and equipment to achieve the tightest of tolerances for our customers. 
Velosity supports your 3-axis, 4-axis, and 5-axis machined component needs by providing high precision and superior replicability. This is all based on performing up front design-for-manufacturability (DFM) to ensure optimized product designs. Our skilled designers and engineers are here to assist with all your project needs.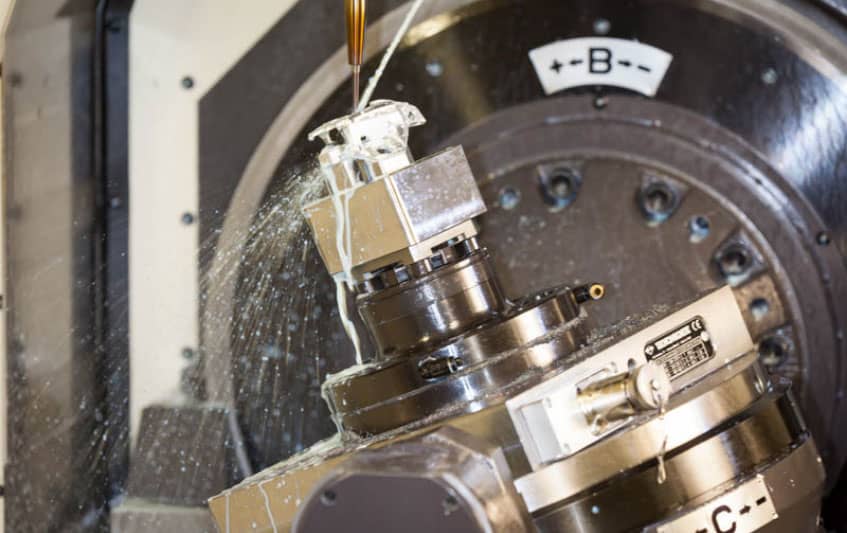 "Thank you for your outstanding contributions to our efforts to increase manufacturing capacity in the battle against the Covid-19 pandemic. Velosity had a direct impact on our ability to provide our COVID Test Kits to the global healthcare community."
Principal Plastics Engineer
American Molecular Diagnostic Company
"Our most critical dimensions were successfully tuned on the first iteration by the Velosity team with precise results. This is unprecedented on these precision parts."
Principal Plastics Engineer
American Molecular Diagnostic Company
"Velosity is definitely a company we can depend on. You guys soooo very completely ROCK!"
Sourcing Manager
Multinational Medical Device and Health Care Company
"Your facility is phenomenal! It was the most impressive facility I have ever seen, with no close second. When I leave a supplier and think "damn, I wish I worked here", it tells me we are in good hands."
Senior Manufacturing Engineer
World's Leading Manufacturer of Medical Devices
"The collective skills of Custom Mold & Design and Velosity were key to completing our objectives."
Molding Specialist
American Multinational Conglomerate Organization
"We are grateful for the excellent work done by the Velosity team. It makes a real difference to the healthcare system and the patients who rely so heavily on all of us!"
"Velosity has done a stellar job and is now on our radar globally."
Head of Global Operations
One of the World's Largest Biotech Companies
"Velosity's hard work helped us achieve our tight timeline and prevented us from going line down."
Senior Buyer/Planner
Multinational Medical Device and Healthcare Company
"Velosity is our dream supplier."
Senior Buyer
Aerospace, Defense and Technology Corporation