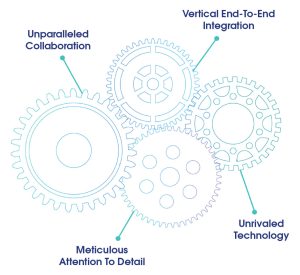 Welcome to Velosity
Your all-encompassing partner for streamlined production solutions. We understand the complexities of managing a manufacturing process, which is why we offer a comprehensive suite of solutions that cater to your unique needs.  
With more than 50 years of experience, Velosity is the industry leader in contract manufacturing, injection molding, precision machining, and tool design & manufacture for complex applications and highly regulated industries.
We have a proven track record for successful program and process development from concept through production. Our experience and vertically integrated capabilities provide the competitive edge in today's marketplace.
Markets
Medical Devices & Life Sciences
Velosity is dedicated to helping you develop innovative solutions that allow your patients to return to an active life as soon as possible.
Aerospace & Defense
Velosity is the outsourcing solution for defense and aerospace OEM's manufacturing needs. 
Quality Assurance
At Velosity, in order to reduce time, risk and cost, we provide the highest level of quality controls through strict adherence to industry best practices and full compliance to product standards at every stage of the product manufacturing cycle. We employ advanced quality planning, qualification processes, process control planning and ongoing production evaluation for repeatable outcomes, measurable performance benchmarks, and consistent quality standards. 
Each Velosity facility has specific codes and certifications to meet your manufacturing requirements which include the following:

Our Solutions
Contract Manufacturing
We are fully committed and equipped to meet your unique product requirements with our state-of-the-art facilities, cutting-edge equipment and highly talented and knowledgeable workforce. Our experienced management team takes ownership of your project, so you can focus on what you do best. Whether you need flawless production of your product or parts or a complex supply chain solution, Velosity has the expertise, capabilities, and scalability to work with you. We are dedicated to aligning our resources to best support your needs.
Injection Molding
Velosity offers comprehensive injection molding capabilities, including silicone molding, insert molding, over-molding, two-shot molding, small-format and high-volume molding. We process the complete range of thermoplastic, elastomeric and silicone materials. All programs are scalable to meet medium and high-volume production requirements, utilizing advanced technology to bring your products to market on time and within budget.
Precision Machining
Velosity has a variety of machining capabilities to fabricate complex geometries to tight tolerances utilizing the best machinery, tooling, and software in the industry. Our high-speed, multi-axis machining can achieve extremely close tolerance ranges, often within .0001 inch or less. Our capabilities also include dry Swiss machining, hard milling, mill turning, wire and sinker EDM, as well as 3, 4 & 5-axis milling. 
Tool Design & Manufacture
Our experienced tool design and manufacture teams utilize the most advanced technology and the best-in-class equipment to deliver precision molds that produce precision components. Velosity has the capacity to produce hundreds of tools per year to run in our molding machines or yours. We design and build injection molding tools for thermoplastics, elastomers, silicone and metal injection molding. 
Design Support & Engineering
Velosity engineers integrate design for manufacturability (DFM), excellence (DFX), and assembly (DFA). They move expeditiously through design, qualification, validation, and approval to production. Our engineers work as an extension of your organization and will identify opportunities for design enhancement, component consolidation and other improvements to reduce cost and optimize performance. 
Tool Sampling & Process Development
Velosity offers a variety of tooling trial scenarios, including consultation, sampling and validation/PPAP to assist with all tooling and process development objectives. Press sizes ranging from 20 tons to 715 tons, supported by state-of-the-art metrology lab with multiple ISO Class 7 & 8 clean rooms, result in the successful launch
of your products. 
Technology Transfer
Technology transfer involves the development of a complete manufacturing cell, including all tooling and capital equipment, before transferring it to your facility. Our technology transfer program includes: design for manufacturability (DFM) review, equipment selection, tool design & fabrication, process development & validation, First Article Inspection (FAI) and training on processing steps and mold preventative maintenance activities.
Program Transfer
Velosity has the expertise to take over your existing programs, offering responsive and high-quality services. Our experienced team works closely with you to assess your needs and recommend the best course of action to ensure a successful transfer. We offer a range of transfer options, including onboarding your existing molds, precision machined components as well as complete program transfers. With our proven track record in successful transfers, we can help you consolidate your supplier base while minimizing your production downtime.